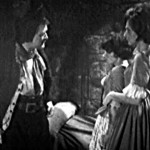 The Reign of Terror (El Reino del Terror) es el octavo y capítulo final de la primera temporada de Doctor Who. Fue la primera historia en la que se utilizaron exteriores, y la primera en la que se utilizó un doble para un actor del reparto principal (en este caso, William Hartnell). También significó la llegada del guionista Dennis Spooner al programa, que más tarde se convertiría en el editor de guiones de la serie.
Se introducen dos conceptos que han perdurado; el primero, la afirmación de Susan de que la Revolución Francesa fue el periodo favorito del Primer Doctor. Más tarde fue recordado por Russell T. Davies y Steven Moffat cuando idearon al Décimo Doctor, que tenía una clara preferencia hacia todo lo francés.
El segundo, en "Prisoners of the Conciergerie" se llegó al final de la narrativa continua, en la que cada historia llevaba a la siguiente, que había sucedido desde An Unearthly Child (Una Niña de Otro Mundo). Esta ruptura proporcionará a futuros guionistas de historias de otros medios un hueco muy útil para emplazar sus nuevas aventuras que protagonizaran el Doctor, Susan, Ian y Barbara.