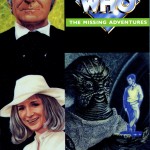 reseña del libro de Doctor Who Virgin Books de la colección Missing Adventures The Scales of Injustice
[...]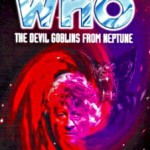 The Devil Goblins from Neptune fue la primera novela de la colección BBC Past Doctor Adventures. Escrita por Martin Day y Keith Topping, fue publicada en Junio de 1997 y tiene como protagonistas al Tercer Doctor y Liz Shaw.
[...]
El Doctor utiliza un destornillador sónico en sus aventuras. Se trata de una herramienta multifuncional, lo utiliza básicamente para abrir cerraduras, pero puede hacerla servir para exploraciones médicas, controlar dispositivos remotamente, operar con ordenadores ya sean terrestres o alienígenas; o hacer seguimiento de la vida extraterrestre.
Al igual que la TARDIS, se ha convertido con el tiempo en uno de los iconos de la serie.
El destornillador sónico se introdujo en la serie por primera vez en 1968 en la historia "Fury from the Deep" (Furia en las Profundidades), escrita por Victor Pemberton. El segundo Doctor lo usó regularmente, como una herramienta multipropósito. El destornillador sónico ha aparecido en diferentes episodios y ha sido destruido en varias ocasiones, aprovechando este momento para renovar su diseño.
[...]