Doctor Who Temporada 7: Nuevos detalles sobre el segundo episodio
El número 446 de Doctor Who Magazine, ha desvelado nuevos detalles sobre el segundo episodio de la séptima temporada de Doctor Who. Así que es el momento de juntar toda la información de la que disponemos:
El segundo episodio se llamará (spoilers) on a (spoilers), el guionista es Chris Chibnall, que todos recordareis por ser el guionista de 42, y el responsable reintroducir en Doctor Who a los Silurians en los capítulos The Hungry Earth / The Cold Blood.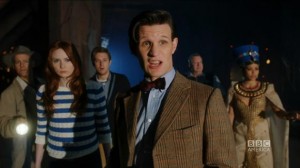 Por el trailer que BBC publicó, pudimos ver que Rupert Graves (el Inspector Lestrade en Sherlock),  aparecía en él vestido como un arqueólogo y acompañado por una chica vestida de egipcia.
El episodio tendrá parte de su acción en Egipto.
Graves estará  acompañado por el actor Mark Williams, que dará vida al padre de Rory.
El segundo episodio estará lleno de animación por computador.
Otras noticias relacionadas con la séptima temporada que publica DWM son:
Chris Chibnall también escribirá el episodio 4.
El bloque 3 de producción se corresponde a un solo episodio que será dirigido por Douglas Mckinnon, que también dirigió The Sontaran Estratagem y The Poison Sky.
El bloque 4 de producción será la filmación del especial navideño, donde se presentará a Jenna-Louise Coleman, como la nueva compañera del Doctor.